Demand Driven Flow Technology (DDFT)
Demand Driven Flow Technology is a comprehensive mathematical-based methodology that enables a company to become Demand Driven so that it can meet the expectations of their customers in today's complex and volatile marketplace. DDFT aligns manufacturing with actual demand, establishing world-class flow manufacturing.
Demand Driven Flow Technology is an impactful business transformation methodology that drives high levels of response capability, lead time compression, improved productivity, a reduction in working capital and reduced Cost of Goods Sold, enabling manufacturers to be more effective in meeting the needs of their customers on a daily basis elevating the business to become a market leader.
Substantial cost and productivity improvements are achieved through the use of a structured, mathematically-based toolset to simulate and design mixed-model production flow lines to deliver world-class customer service. This creates a shift in fundamental production strategy that forms the foundation for a responsive organization.  Demand Driven Flow Technology is the science behind the flow and pull techniques utilized by today's leading manufacturers.  This was summed up a few years ago by the former Chairman and CEO of GE, Jack Welch, who stated that "DFT is an absolute business discipline…it's another way to simplify the business."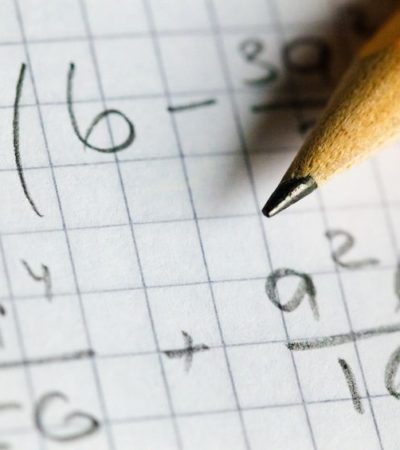 Mathematical-Based Improvement Strategy
Developed in the mid-80's, Demand Driven Flow Technology is a scalable and comprehensive, mathematically-based Demand Driven improvement strategy designed to drive high levels of response capability, lead time compression, improve productivity and reduce costs enabling manufacturers to become more effective in meeting the needs of their customers on a daily basis. Demand Driven manufacturing with world-class customer service is achieved through alignment of advanced planning strategies with the response capability of the factory matched to actual customer demand. This creates a fundamental shift in strategy that forms the foundation for a responsive Demand Driven manufacturing organization.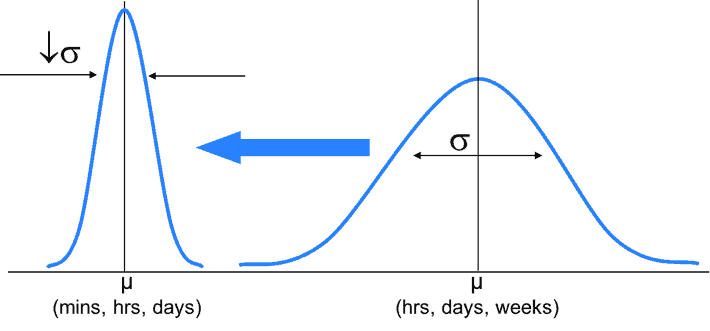 As we all know, customer demand is extremely variable, and at times often volatile, requiring traditional manufacturing operations to maintain customer service levels by employing inventory in Finished Goods as well as throughout production. Conversely, Demand Driven Flow Technology excels in providing the math and science to perfectly synchronize and balance the entire manufacturing environment accommodating changes in customer demand with minimal supporting inventory requirements. Through design, the company will produce to demand, improving response through the factory, improving customer service levels, and eliminating excess production inventories.
Production processes are synchronized, balanced and reorganized in a flow to enable substantial improvement to product velocity through production, with material replenishment systems designed to improve material availability, provide flexibility, reduce overhead and provide early visibility of shortages. Mixed-model flow is established through the optimization of manufacturing resources (labor and machine) supported by dynamic material replenishment strategies to achieve a faster and repeatable response. With reduced, repeatable and consistent response that is synchronized to daily demand, global organizations are transformed, regaining control of previously unbalanced production environments along with the high levels of inventory and ever-increasing operational costs that are associated with traditional operations.
The goal for any company operating DDFT is to have an agile production facility that is adaptive to customer demand requirements and is aligned with the entire Supply Chain. Shorter manufacturing response time will drive more flexibility and ability to adapt to changes in supply and demand. The Demand Driven Flow Technology factory will require less inventory to support it.
The business needs to become Demand Driven to survive and transition itself away from business processes that have traditionally permitted production environments to add significant costs to the business through long lead times and excessive over-production.
Demand Driven Flow Technology Tools
Employing a proven framework, manufacturers around the world have been adopting Demand Driven Flow Technology for over three decades with transformational results. Utilizing tools such as Product Synchronizations, Sequence of Events, Mixed-Model Process Matrixes along with DDFT Operation Methods sheets companies have designed and implemented mixed-model flow with resources that have the capability to handle changes in product volume and mix every day delivering a repeatable and predictable response to the customer.
Through alignment to actual demand, instead of a traditional forecast or planned order, the needs of the customer are met through synchronized and adaptive DDFT manufacturing environments. By design, the potential for over-production is eliminated, flow is established reducing lead times and consequently a further reduction in WIP and Finished Goods inventories.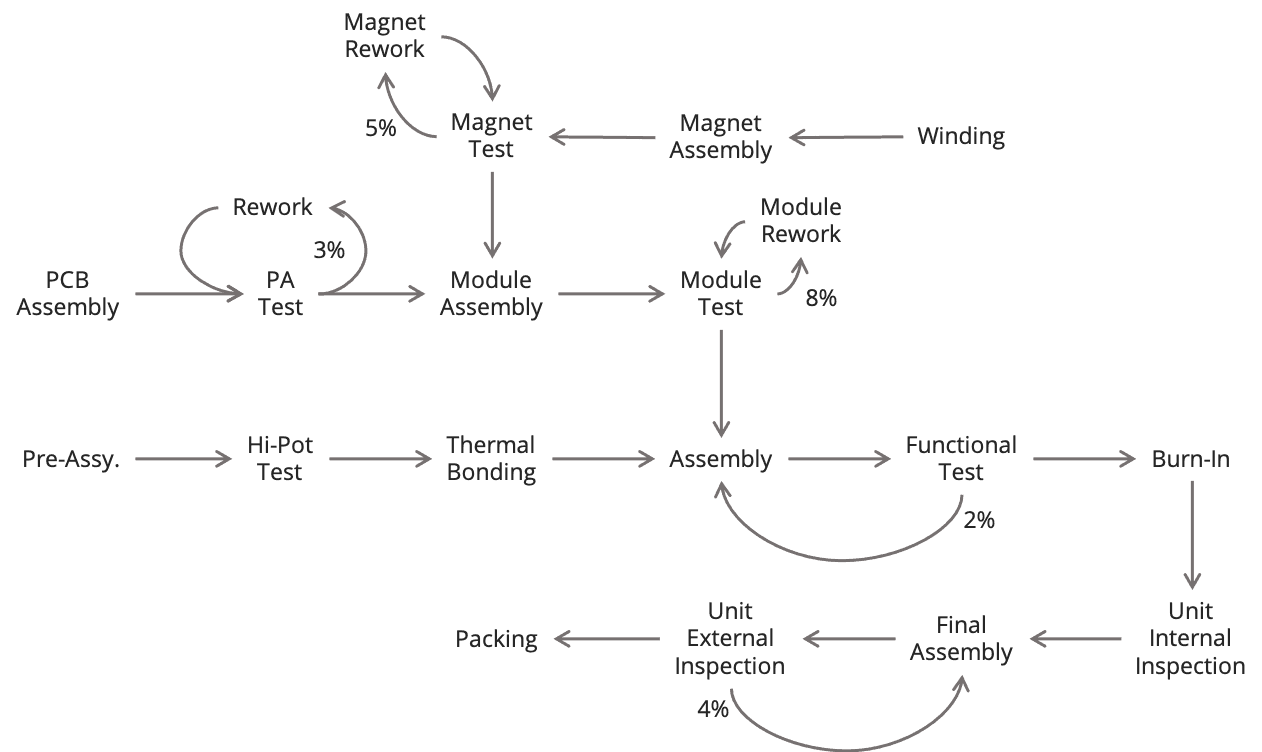 Product Synchronization
A relationship of processes in a Flow to produce a product.
Sequence of Events (SOE)
The SOE defines the work and quality required to build a product in the production process. Each sequential task relates to either set-up, required work or move and also defines the required quality criteria and the associated reasonable, realistic and repeatable time to build a product.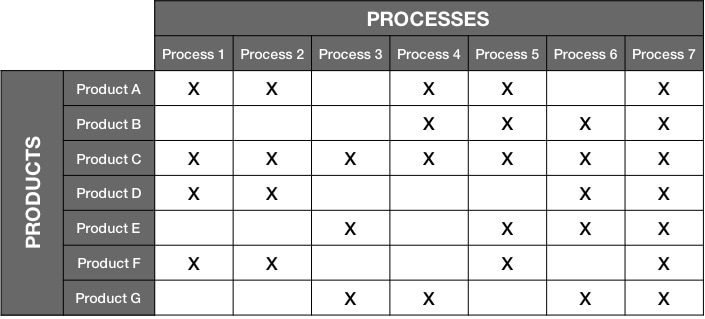 Mixed Model Process Matrix
The Mixed Model Process Matrix provides a high-level graphical representation of the processing requirements to build each product. Following the creation of the Process Matrix, Product Families can be defined where products require similar processing. Actual Times from the SOE can be populated in the Process Matrix.
Designing the Manufacturing Environment
In machine intensive environments, unique mathematical tools determine optimal batch sizes that enable high setup machines to produce closer to actual demand while facilitating production of a greater number of product types each day. With optimized batch sizes and mixed-model flow design, machine environments become more agile and adaptive to customer requirements significantly reducing quality exposure and the working capital position of the business associated with traditional batch production. As machine intensive environments produce closer to actual demand, Demand Driven Flow Technology designs release capacity for the production of products that are actually required.
Specific design tools determine optimal product segmentation to be produced through the DDFT Mixed-Model Flow Lines and Machine Cells, replacing product specific assembly lines that lack any form of flow, balance or responsiveness. Through the aggregation of demand, the mixed-model design of a flow line will accommodate changes in mix and volume on a daily basis. Seasonal or cyclic fluctuations in customer demand will also be less severe in impact as a wider range of products being manufactured on the same line.
Flexible Resources: People
Demand Driven Flow Technology requires flexible employees to work within the manufacturing environment. Line staffing is determined on a daily basis to be aligned to demand requirements. By adjusting staffing on a daily basis and utilizing flexible operators, the DDFT flow line will accommodate daily changes in demand without the redesign of the production environment. Employing a technique called Flexing, a team of operators will manage a flow line with more operations than there are operators significantly improving productivity compared to a line where one operator works in one operation.
Flow-Based Metrics
The performance of the manufacturing environment is measured utilizing Flow-based metrics. On a daily basis, supervisors determine an hourly Flow Rate target to attain to ensure customer demand is achieved. Every hour, the line is measured against the planned Flow Rate and appropriate corrective actions applied to ensure the planned daily rate is achieved. Overall performance is defined through the measurement of Linearity. Linearity provides a business with the ability to closely measure how effective the entire production environment is at meeting the plan for a month and hence the ability of the business to respond to its customers. By transitioning to Flow-based metrics a business can ensure that performance measurement is aligned to the Demand Driven goals of the organization, rather than traditional metrics such as Efficiency or Utilization that are in conflict with a Demand Driven organization.


Case Study
Advanced Energy Industries, Inc., is a high-tech manufacturer specializing in power conversion solutions utilized in thin-film plasma manufacturing and solar energy generation. This case study reviews the work that was completed in their facility located in Shenzhen China and the improvements that they have achieved.
Benefits of Demand Driven Flow Technology
Demand Driven Flow Technology enhances profitability by leveraging increased speed and response through manufacture. Working capital reductions of 41% on average and an average lead time reduction of 49% are achieved through the capability of DDFT manufacturing environments and the creation of balance and flow resulting in an average space reduction of 15%. Average improvements of 8% of Cost of Goods (COGS) are attained as a result of significant productivity gains and a focus on flexible employees. Customer satisfaction is seen to improve on average by 9% through improved on-time deliveries and a consistent, predictable, repeatable response. Furthermore, a DDFT organization can achieve greater competitive advantage and increased market share realized through the capability to manufacture any product based on actual customer demand rather than a forecast. Competing organizations have few options available to them; they can tie up more working capital with additional inventory, increase levels of overtime, or increase resources.
Demand Driven Flow Technology will impact your business with improved customer satisfaction, compressed lead times, reduction in working capital and reduced Cost of Goods Sold, elevating the business to become a market leader.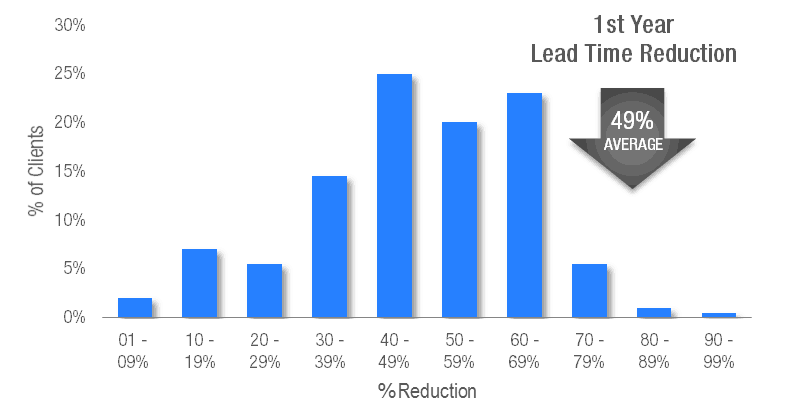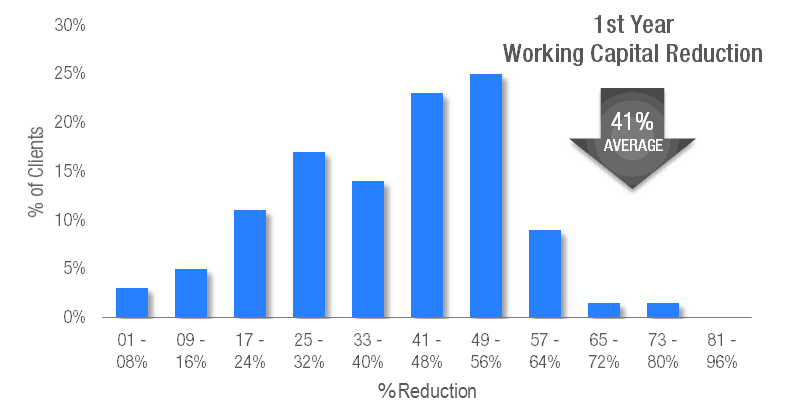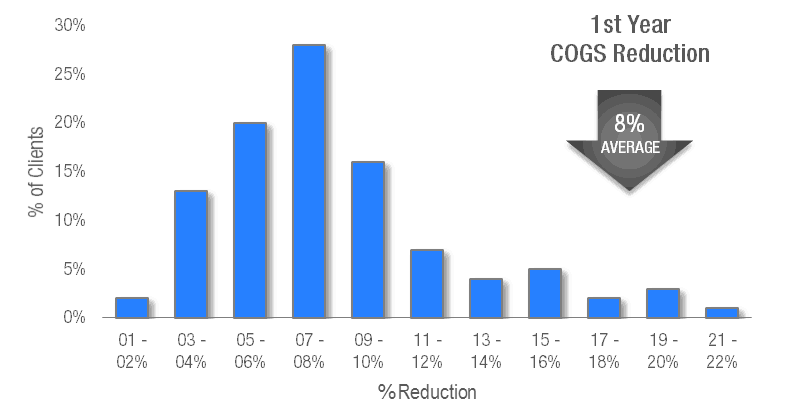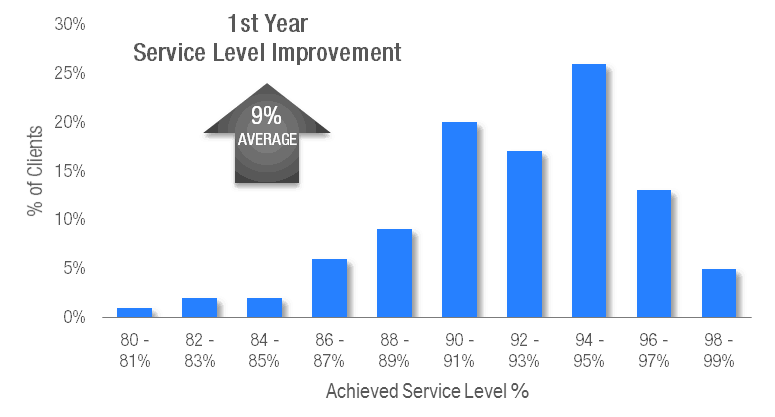 With TheONE, your focus is on the overall Demand Driven Flow Technology (DDFT) design rather than on non-value added activities associated with spreadsheet manipulation. It provides a really great user-friendly step-by-step process to follow when designing your DDFT flow line.
Our instructor, Sandy Goodwin, was extremely knowledgeable, patient, professional and had an excellent disposition. The course material was in-depth and thoroughly discussed.
Our product mix ranges from extreme high mix, low volume to low mix, medium volume. We selected Demand Driven Flow Technology (DDFT) as the foundation for Manufacturing and Supply Chain because of its flexibility in supporting the volatility of our product mix. It provides our teams with a common language for planning and staging material in the supply chain and within the factory. Our customers require agility and speed for delivery of quality products and our stakeholders require cash conservation with our inventory strategies. DDFT is our platform to achieve these requirements.
It was a pleasure to be part of the class and I guarantee the materials I learnt will be part of my daily activities in production.
All knowledge was presented in an extremely attractive and easy to understand way. I'm so glad that I had the chance to participate.
Our consultant was extremely knowledgeable and presented the material in a way that was easy to understand but also challenged you to think through solutions. This of course was extremely beneficial and can be applied to every aspect of the business.
Thank you for providing a high level of quality training. I really enjoyed your presentation and willingness to take the time and answer all the questions that were presented.
A new state of the art headquarters facility warrants a world-class manufacturing and service operation. We weren't looking for an incremental change, we needed step function level change. High Impact Coaching & Strategies offered extensive hands-on experience and a history of results that met our needs…and they delivered.
TheONE DDMRP is an unbelievable tool for managing my inventory. I have been so used to managing excess inventory driven by our forecast. Now we only order based on actual demand requirements rather than based on the forecast or our gut feelings. I used to spend so much time of my day checking items that I had no requirement for, now TheONE DDMRP tells me exactly what is required, significantly reducing excess inventory as well as freeing up my time.
A lot of the positive developments using Demand Driven Flow Technology in our manufacturing plant would not have been possible without your support!
High Impact's consulting services provided a great opportunity for us to understand the concepts of Demand Driven Flow Technology and to implement our new Line Design that generated benefits within our Korean production facility. High Impact provided continual feedback, mentoring, and coaching leading to a detailed understanding and operational benefits that would not have been possible through education alone. They provided an excellent service through all phases of our project that continued beyond their contractual obligations ensuring our continued success. They are a trusted company that we will continue to partner with.
The overall experience was amazing. The material shown was very informative and enlightening. The most important thing that I am taking away from this workshop is the tools needed to become demand driven. I would recommend this class to anyone who wishes to improve production and customer service.
Newsletter Sign Up
Keep up-to-date on what's happening in our Demand Driven World. Get information manufacturing and supply chain topics as well as news on client achievements, up and coming training events and other interesting stuff!
Email
info@highimpactcs.com
Address
High Impact House,
Ashby de la Zouch,
Leicestershire
LE65 1SP. UK
Telephone
US (Toll Free): +1 888 841 8621
UK Telephone: +44 7832 270 381